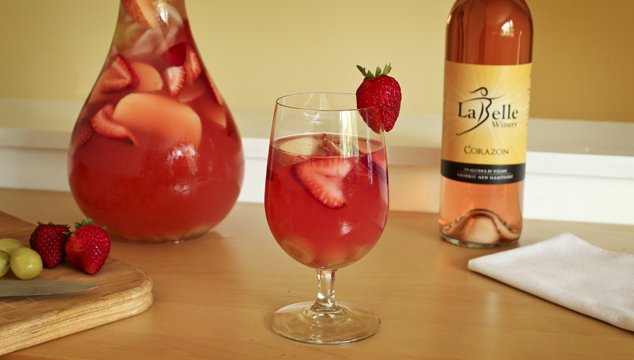 1 Bottle LaBelle Winery Corazon
6 oz Apple Brandy
2 oz Peach or Raspberry Puree
Assorted White or Red Fruit – we like Strawberries, Apples, White Grapes & Pears
1 oz Simple Syrup or more to taste
Club Soda
At least 12 hours before drinking or overnight, place sliced fruit in a container with brandy and 1 oz Simple Syrup (or two tablespoons of White Sugar). A few hours before serving, add the fruit puree and bottle of wine. When ready to serve, top off each glass with an ounce of club soda. This gorgeous blush sangria will delight your guests as a pre-dinner refresher. Enjoy!