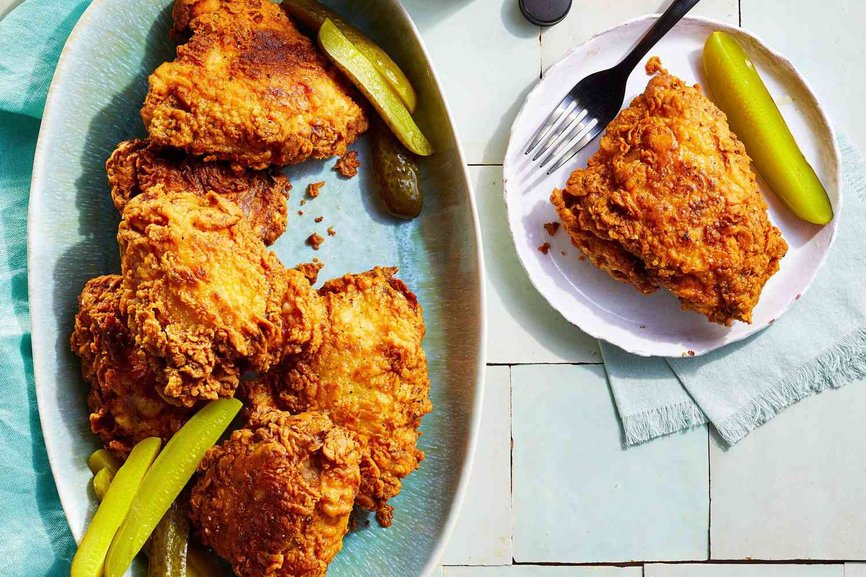 Ingredients:
• 8 Skin-on, bone in chicken thighs
• 2 cups dill pickle juice
• 1 cup LaBelle Winery Riesling
• Vegetable Oil for frying (about 3.5 cups
• 1 cup buttermilk
• 1 cup flour
• Dash of cayenne pepper
• 1 tsp sea salt or kosher salt
• 3/4 tsp black pepper
Instructions:
• Combine chicken, pickle juice, LaBelle Winery Riesling in a zip-top plastic bag. Seal and chill for 3 hours. Drain liquid from the chicken. Chicken can be covered and chilled for up to 1 day until ready to fry.
• Heat 1 inch of oil to 350F in a large cast iron skillet over medium-high heat.
• Put buttermilk and flour into separate bowls. Stir cayenne, sea salt and pepper into flour. Dredge chicken in buttermilk and shake off excess. Toss in the flour and spices to coat evenly. Set chicken on a rack set over a baking sheet.
• Working in batches to avoid overcrowding, fry chicken thighs for 5-7 minutes, turning once until golden brown and an instant read thermometer registers 165F. Transfer chicken thighs to the rack to drain. Add more oil as needed between batches. Serve immediately. Enjoy!
Read More