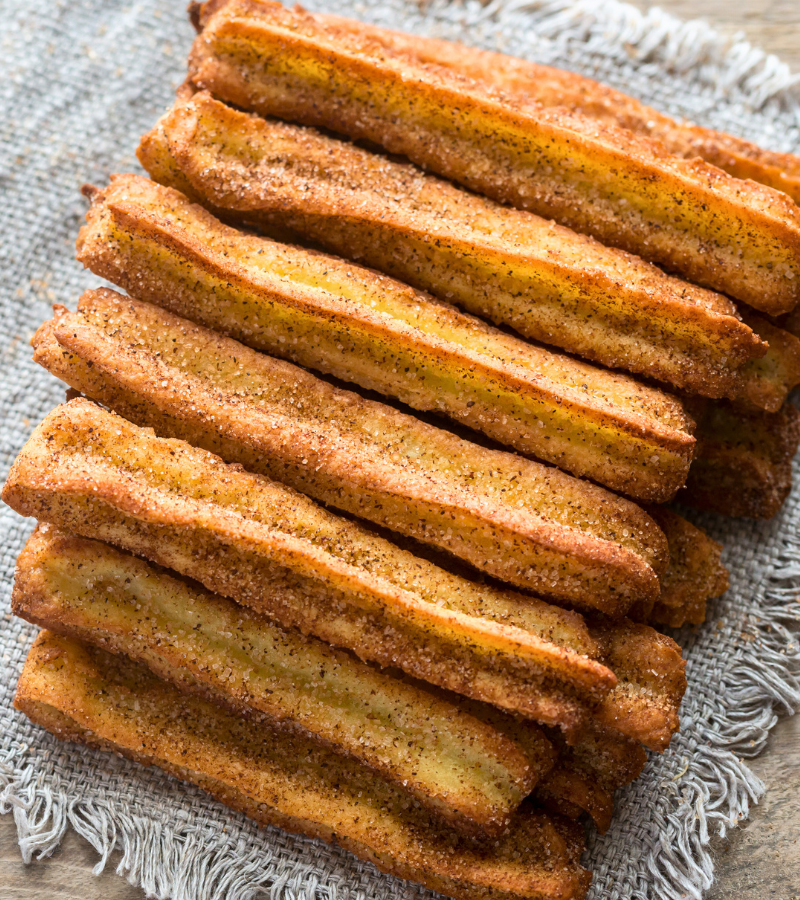 INGREDIENTS:
For the Churro Dough:
1/2 cup of water
1/2 cup of whole milk
8 tablespoons of unsalted butter
1/4 teaspoon of sea salt
1 cup of all-purpose flour (King Arthur recommended)
3 eggs, beaten
1 teaspoon of vanilla extract
Vegetable oil, for frying
For the Sugar Coating:
1/4 cup of sugar
1/4 teaspoon of ground cinnamon
Dash of nutmeg
INSTRUCTIONS:
In a saucepan, combine water, milk, butter, and salt. Bring to a boil over high heat.
Once the butter is melted, stir in the flour with a wooden spoon. Reduce the heat to low.
Stir in the vanilla extract and continue to stir vigorously for about a minute until the mixture forms a loose ball.
Gradually beat the eggs into the dough while stirring constantly. Continue to stir until the dough becomes slightly glossy. Remove from heat and let it cool.
Heat about 2 inches of oil in a heavy, high-sided pot over medium-high heat until the oil reaches 360 degrees F.
In a separate bowl, mix the sugar, cinnamon, and nutmeg. Set aside.
Once the dough has cooled slightly, spoon it into a pastry bag fitted with a medium star tip.
Squeeze a 6-inch strip of dough into the hot oil. Repeat this step, frying only a few at a time. Fry each side of the churros until golden brown, which should take about 2 minutes per side.
Transfer the cooked churros to a plate lined with paper towels to drain.
When the churros are cool enough to handle, roll them in the cinnamon-sugar mixture.
Serve with Red Wine Chocolate Dipping Sauce (recipe available at amylabelle.com).
Enjoy your homemade LaBelle Winery Churros!