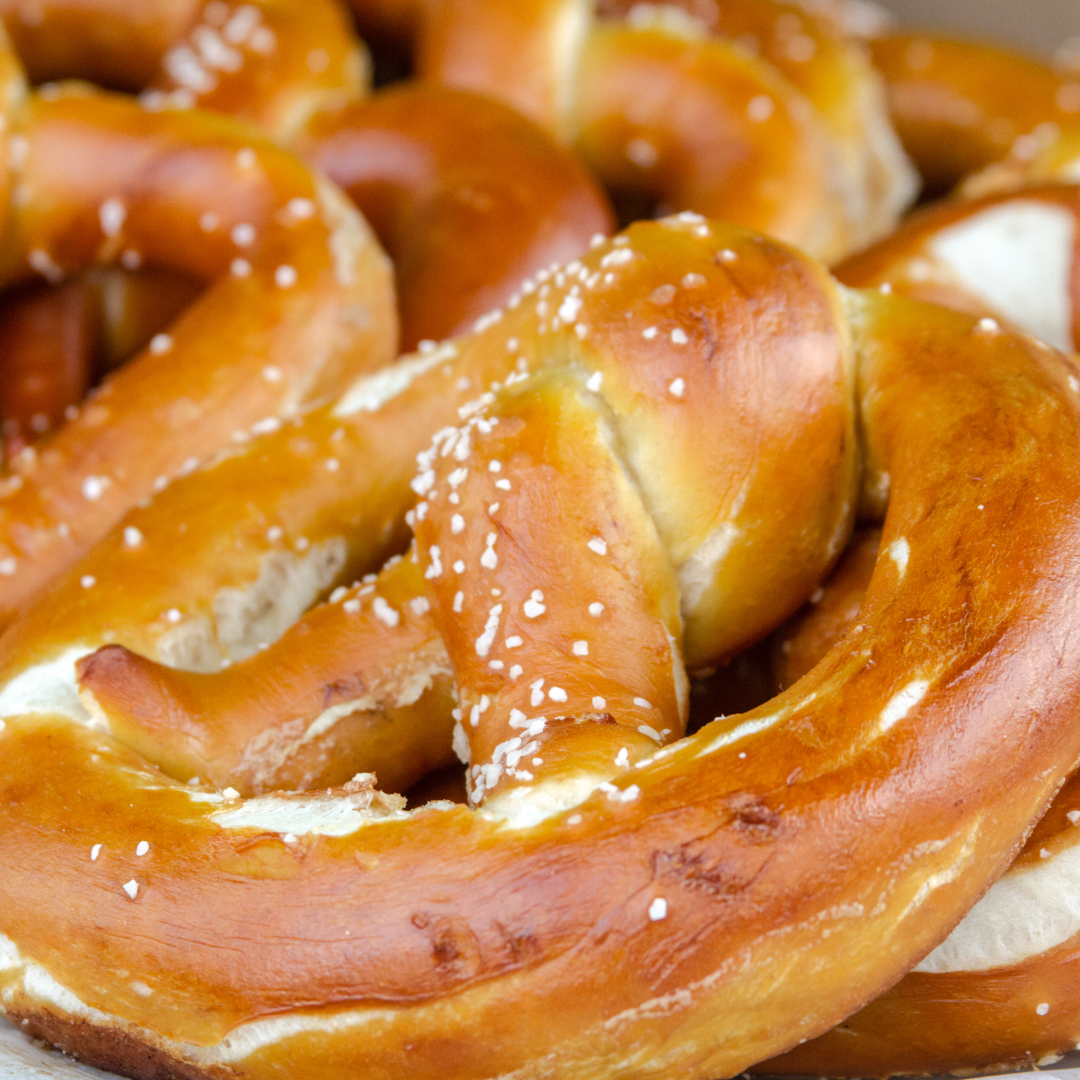 INGREDIENTS
For the Pretzels:
1/3 cup warm water
1 tablespoon honey
2 1/4 teaspoons active dry yeast
12 ounces pumpkin beer
1/2 cup salted butter, melted
4 1/2 cups all-purpose flour
1/4 cup baking soda
1 egg, beaten
For the Ranch Seasoning:
2 tablespoons dried parsley
2 tablespoons dried chives
2 teaspoons dried dill
2 teaspoons garlic powder
2 teaspoons paprika
2 teaspoons onion powder
1/4 cup pretzel salt
For the Buffalo Cheese Sauce:
1/4 cup butter
1/4 cup all-purpose flour
1 1/2 cups whole milk
4 ounces cream cheese, cubed
10 ounces sharp cheddar cheese, shredded
10 ounces Monterey jack cheese, shredded
1/2 cup buffalo sauce
INSTRUCTIONS:
For the Pretzels:
Combine warm water and honey in a bowl. Sprinkle yeast over top and let sit for 5 minutes.
Add beer and melted butter to the yeast mixture.
Gradually add flour to the liquid mixture, mixing until a dough forms.
Knead the dough until elastic, then let rise in a warm place until doubled in size.
Preheat oven to 450°F (230°C). Bring a large pot of water to a boil and add baking soda.
Divide the risen dough into small pieces and shape into pretzels.
Boil each pretzel for 30 seconds, then place on a baking sheet.
Brush each pretzel with beaten egg and sprinkle with ranch seasoning.
Bake for 12-15 minutes or until golden brown.
For the Ranch Seasoning:
Combine all ingredients in a bowl and mix well.
For the Buffalo Cheese Sauce:
Melt butter in a saucepan over medium heat.
Stir in flour until smooth.
Gradually whisk in milk, then add cream cheese. Stir until smooth.
Add shredded cheeses gradually, stirring until melted and smooth.
Stir in buffalo sauce until fully incorporated.
Serve the warm Mini Ranch Pretzels with the Buffalo Cheese Sauce on the side. Enjoy!