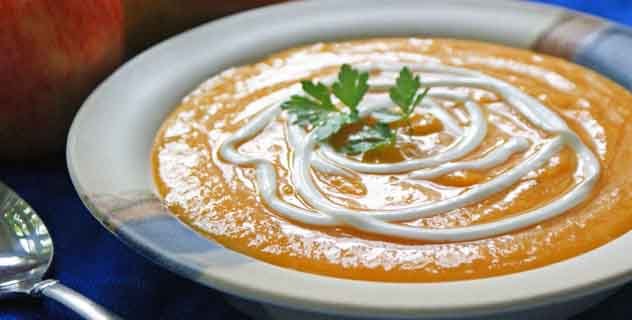 – 2 tablespoons (¼ stick) butter
– 1 large onion, chopped
– ½ teaspoon ground nutmeg
– 1 teaspoon ground cinnamon
– 4¼ pounds butternut squash, peeled, seeded, & cut into chunks
– 4¼ cups vegetable or chicken broth
– 2 Macintosh, Gala, or Granny Smith apples, peeled, cored, diced
– 1 cup LaBelle Winery Dry Apple Wine
– Dash Cayenne Pepper
– Optional: sour cream and caramelized apple slices for garnish
Melt butter in large pot over medium-high heat. Add onion, cinnamon & nutmeg; sauté until onion begins to brown, about 5 minutes. Add squash, broth, apples & LaBelle Winery Granite State Apple Wine. Bring to boil; reduce heat and simmer uncovered until squash and apples are tender, about 30 minutes. Add dash of cayenne. Puree with a hand blender in the pot or working in batches, puree soup in blender until smooth. Return soup to pot. Season to taste with salt and pepper.
Bring soup to simmer, thinning with more broth or wine, if desired. Ladle soup into bowls. Garnish with sour cream and carmelized apples.
(To make these, put thin slices of apples in a saute with brown sugar and a pat of butter and cook until carmelized, maybe 10 minutes.) Makes 8 servings.