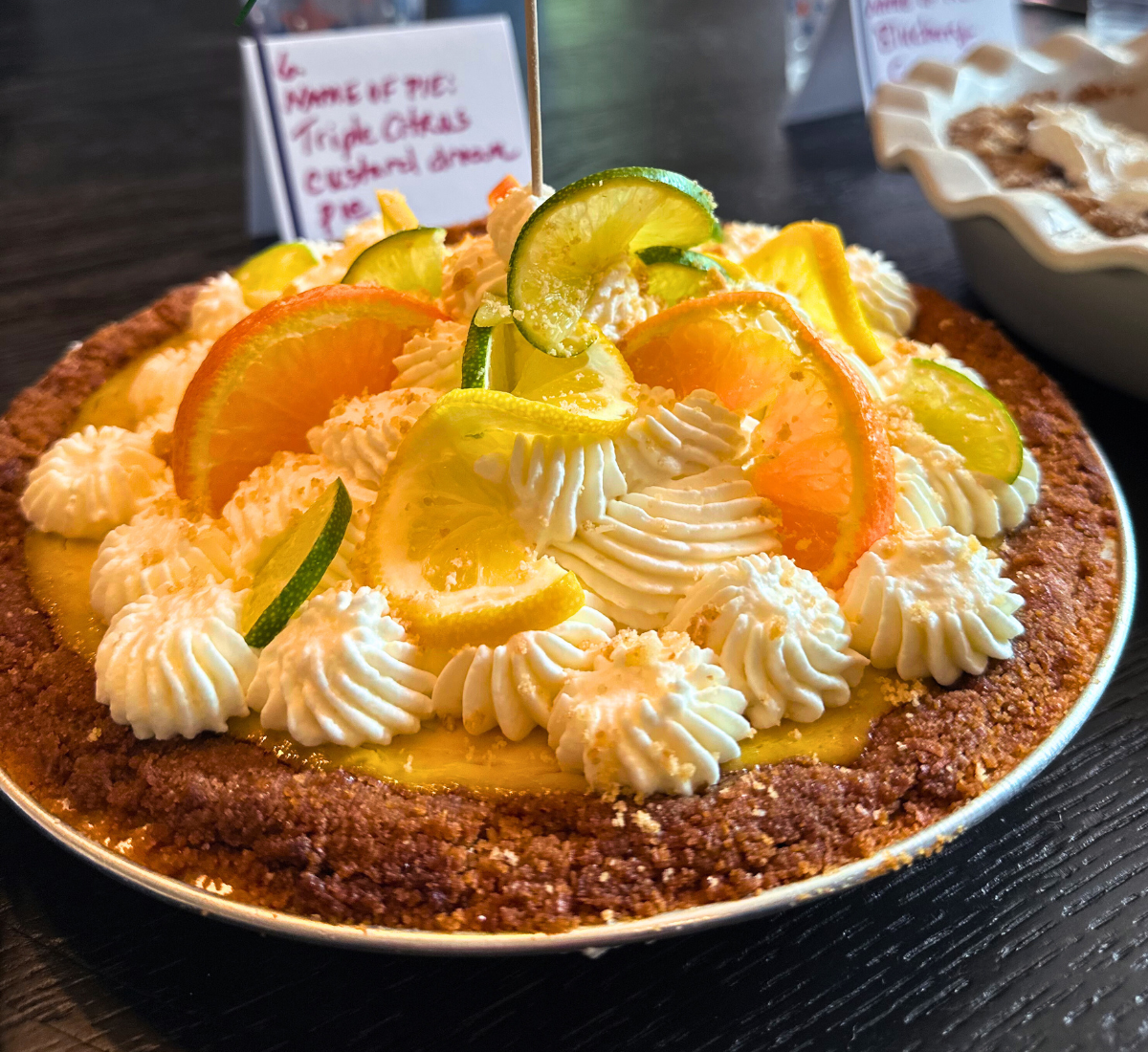 INGREDIENTS
Crust
2 cups finely crushed graham crackers
¼ cup granulated brown sugar
1/2 cup sweetened coconut flakes
½ tsp coarse Kosher or sea sea salt
3/4 cup unsalted butter, melted
Filling
14 oz sweetened condensed milk
6 egg yolks
½ cup sour cream
1 small lemon, zested and juiced
1 small lime, zested and juiced
2 navel oranges zested and juiced
Topping
1 cup heavy whipping cream
2 tbsp powdered sugar
1 tsp vanilla extract
INSTRUCTIONS
Crust
Preheat the oven to 325F. Lightly spray a 9-inch deep dish pie pan with non-stick spray.

In a bowl, combine the crushed graham crackers, sugar, coconut and salt. Drizzle with the melted butter and toss with a fork until moistened and crumbly.

Press the crumbs firmly and evenly against the bottom and up the sides of your pie pan with a metal measuring cup or something else with straight sides

Bake the crust for 10 minutes, then set aside to cool for 5 minutes while you make the filling.

Filling
In a large bowl, whisk together the sweetened condensed milk, egg yolks and sour cream until smooth.

Use a microplane zester to zest the lemon and lime, and whisk the zest into the sour cream mixture.

Juice the lemon and lime, measuring the juice into a liquid measuring cup. You'll probably get a couple tablespoons of juice from each. Now juice the two oranges, adding their juice to the measuring cup. Altogether, you need 1 cup of citrus juice. Add 1 cup of juice to the mixing bowl, and whisk until smooth.

Slowly pour the filling into the crust.

Bake the pie on the center oven rack for about 25- 30 minutes. The pie should be mostly set, although the center will still be slightly wobbly. I like to shut off the oven and leave the pie for about 8 more minutes at this point.
Let the pie cool at room temperature for 1 hour, then refrigerate until completely cooled and set, about 3 hours, or overnight.

Whipped Cream
Whip cream on medium speed with an electric mixer until soft peaks form.
Add the vanilla and powdered sugar, and whip until the cream is thick enough to hold its shape.
Decorate the finished pie with fresh citrus slices and whipped cream — using a pastry tip in a plastic pastry bag if you have one on hand, to ensure the whipped cream is decorative.