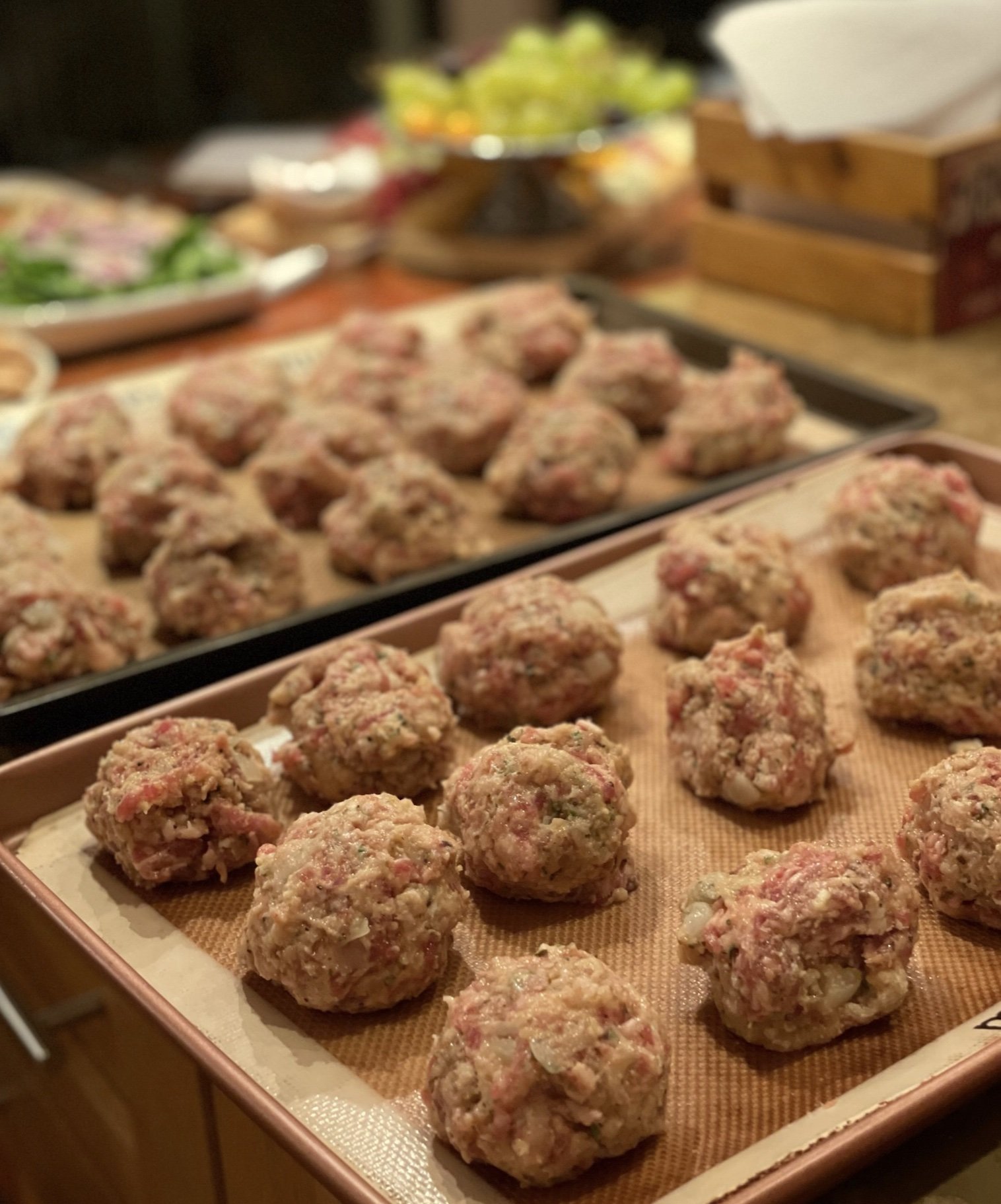 INGREDIENTS
Ingredients for the Meatballs:
2 pounds ground chicken (or turkey)
1/2 cup white wine
1/2 cup Frank's Red Hot Buffalo Sauce
1 cup small diced celery
1 cup small diced carrots
1 cup small diced onion
4 teaspoons minced garlic
1 ½ teaspoon sea salt
1 teaspoon pepper
2 large eggs
1 1/2 cups Panko breadcrumbs
1/2 teaspoon paprika
Ingredients for the Spicy Sauce:
1/2 cup hot sauce (I recommend Frank's)
1 cup light brown sugar
2 tablespoons apple cider vinegar
1/4 teaspoon sea salt
1/4-1/2 teaspoon red pepper flakes (depending on spice preference)
*Note:Adjust the spice level according to your preference by adding more or less hot sauce and red pepper flakes.
INSTRUCTIONS:
Preheat the oven to 400°F (200°C). Line a baking sheet with parchment paper or lightly grease it.
In a large bowl, combine the ground chicken (or turkey), white wine, Frank's RedHot Buffalo Sauce, diced celery, diced carrots, diced onion, minced garlic, sea salt, pepper, eggs, Panko breadcrumbs, and paprika. Gently mix all the ingredients together using your hands. Avoid over-mixing to prevent dry meatballs.
Shape the meat mixture into balls, using about 3 tablespoons of meat per ball. You can make them smaller if desired, using an ice cream scoop for uniform sizes. Place the shaped meatballs on the prepared baking sheet.
Bake the meatballs for 11-13 minutes or until they are completely cooked through.
While the meatballs are baking, prepare the spicy sauce for dipping. In a saucepan, combine the hot sauce, light brown sugar, apple cider vinegar, sea salt, and red pepper flakes. Bring the mixture to a boil over medium-high heat, then reduce the heat to a simmer. Let it simmer for 8-10 minutes. Remove from heat and allow the sauce to cool. It will thicken as it cools.
Serve the slightly spicy buffalo meatballs with the prepared spicy sauce on the side for dipping.
Enjoy these delicious meatballs as an appetizer or as part of a main course. They pair well with celery sticks and blue cheese dressing! Happy cooking!