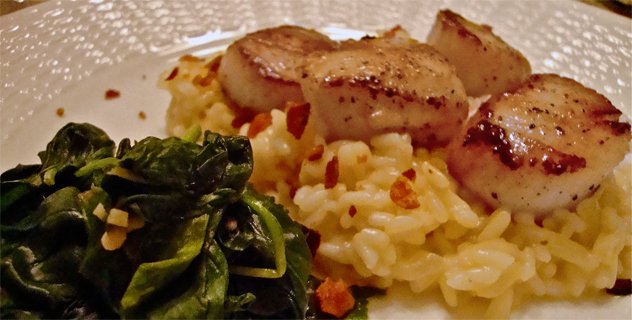 Seyval Blanc Risotto
6 cups chicken broth
2 tbls butter
1 tbls olive oil
2 shallots finely diced
1 1/2 cups Arborio rice
1 1/2 cups LaBelle Winery Seyval Blanc
2 tbls parmesan cheese (or chevre if you prefer)
Splash of heavy cream
1/2 tsp of salt
In a saucepan, heat the chicken broth and let simmer on low heat. In another saucepan, melt 1 tbls butter and 1 tbls olive oil . Add the shallots and cook on low until translucent, just a couple of minutes. Add rice and stir to coat in butter and oil. Toast the rice over medium heat, stirring constantly, for four minutes. Add LaBelle Winery Seyval Blanc and simmer, stirring, until the liquid is almost gone. Add one cup of the chicken stock, and stir constantly until almost completely absorbed by the rice. Continue to add broth 1 cup at a time and allowing each cup to evaporate before adding the next. When complete the rice will be tender and creamy. Turn off heat and add remaining butter, cheese, heavy cream and salt and pepper to taste.
Pan Seared Sea Scallops
12 good quality sea scallops
1 tbls butter
1tbls olive oil
2 tbls Wondra flour
1/2 cup LaBelle Winery Seyval Blanc
juice of 1/2 lemon
Salt and Pepper to taste
Melt butter and olive oil in a pan at high heat and add scallops covered in flour. Don't move scallops for 4 minutes. Turn scallops when you see the flour has become a golden brown crust. Once you have seared the other side, add the Seyval Blanc and the lemon juice, and allow to reduce and evaporate. Turn off heat and salt and pepper to taste
I like to serve these two dishes with wilted spinach, seasoned with nutmeg, salt and pepper.