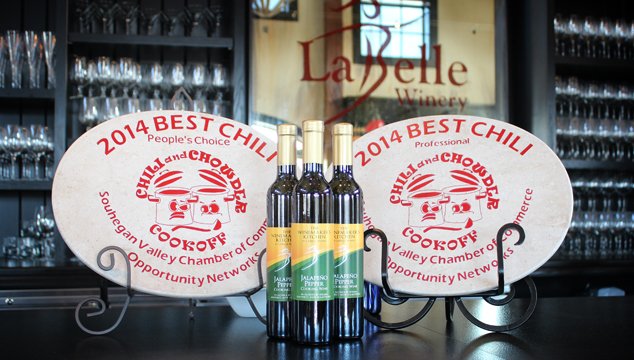 1 tbsp olive oil
2 large red onions, chopped
3 tbsp chopped jalapeño peppers with seeds
6 garlic cloves, chopped
2 ½ lbs ground beef (10% fat)
1 tbsp flour, preferably Wondra
¼ cup chili powder
2 tbsp ground cumin
1 tsp salt
1 tsp paprika
1 can diced tomatoes, in juice
1 cup LaBelle Winery Jalapeño Pepper Cooking Wine
2 15-oz cans kidney beans, drained
1 14-oz can beef broth
Optional: Sour cream
Grated cheddar cheese
Chopped green onions
Chopped fresh cilantro
Heat oil in heavy large pot over medium-high heat. Add onions; sauté until brown. Add jalapeños and garlic; sauté 1 minute. Add beef; sauté until brown, breaking up as it cooks, about 5 minutes. Add flour, chili powder, cumin, salt and paprika, then mix in tomatoes with juice, LaBelle Jalapeño Pepper Cooking Wine, beans, and broth; bring to boil. Reduce heat and simmer until chili thickens, stirring occasionally, about 45 minutes. Can be made ahead, keep refrigerated. Serve with toppings like sour cream, grated cheese, green onions, and cilantro. Makes 6 servings.