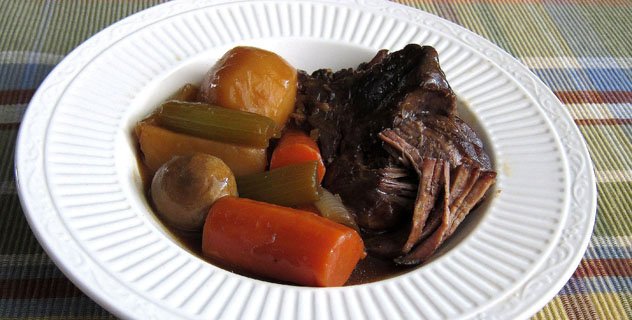 2 tblsp flour
1 tsp salt
1/2 tsp freshly ground pepper
4-5 lbs boneless chuck pot roast
3 tblsp olive oil or vegetable oil
1 cup tomato juice or 1 can diced tomatoes
1 tblsp butter
1 onion, sliced
1 cup carrots, sliced
1/2 cup celery, sliced
2 tsp thyme
2 cups beef or vegetable broth
1 cup LaBelle Winery Blueberry, Tomato or Onion Wine
Combine flour, salt and pepper and rub all over roast. Heat oil and butter in a large pot or dutch oven, and brown roast on all sides. Pull out roast, lower heat, and brown all onions, carrots, celery and thyme for 4 minutes – until onions are translucent. Add remaining ingredients and simmer on stove for 30 minutes, cover, then place in a hot oven (325° F) for another 3 hours or until fork-tender. We like to serve this as a hearty soup in a shallow bowl over polenta or creamy mashed potatoes. Serves 4 (with leftovers). Enjoy!