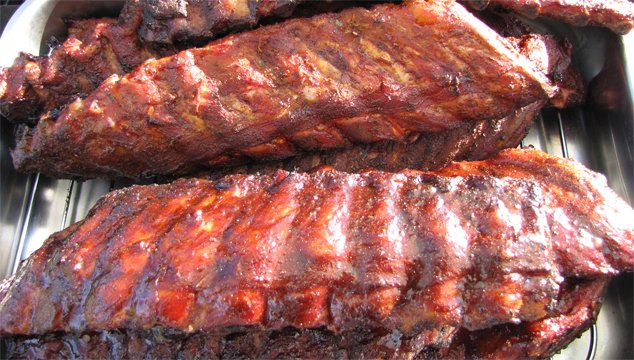 10 oz The Winemaker's Kitchen Oak Cubes
1 cup Vegetable Broth
1.5 cups LaBelle Americus or Red Alchemy Wine
6 lbs Bone-In Spare Pork Ribs Country Style or Baby Back Ribs
1 cup Brown Sugar
.5 tsp Cayenne Pepper
1 tbls minced garlic
1 tbls lemon zest
1 cup Barbecue Sauce of your choice
Salt and Pepper to taste
Place cubes in bottom of roasting pan with roasting rack removed. Pour 1 cup of the wine & vegetable broth over cubes and allow them to soak for 30 minutes.  Set aside.  In a very large mixing bowl, blend the brown sugar, remaining wine, cayenne pepper, garlic, lemon zest & salt and pepper with barbecue sauce, then place pork into the bowl and coat the pork completely with the mixture. Set aside.   Pour off any wine & vegetable broth that may remain in the roasting pan.  Place roasting rack on top of oak cubes and place pork on top of rack, spaced evenly. Cover pan tightly with tin foil and bake at 300 degrees for 2.5 hours. Remove tin foil and allow to cook for an additional 15 minutes and serve hot.