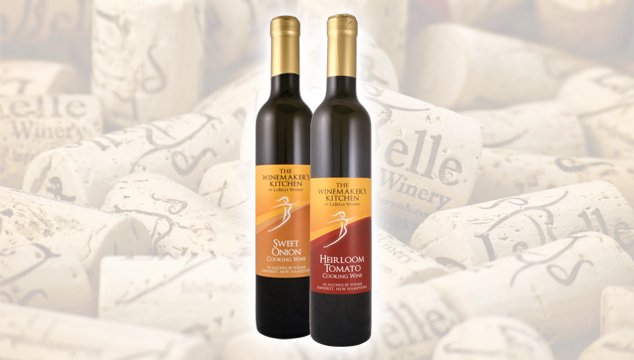 4 lbs ripe, fresh tomatoes, rough diced
1 large sweet onion, diced (approx. 2 cups)
½ cup diced red pepper
½ cup diced green pepper
1 cup diced celery (approx. 2 stalks)
6 cloves garlic, minced
½ to ¾ cup of LaBelle Winery Sweet Onion or Heirloom Tomato Wine
½ cup minced fresh basil leaves (or 2 tbsps dried)
1 tsp freshly ground pepper cup minced fresh oregano leaves (or 1½ tbsps dried)
1½ tsps kosher salt
1 tsp pure cane sugar or agave
3 tbsps good quality olive oil
In large stainless or enamel-coated sauteuse (not aluminum pan), heat the olive oil on medium heat and saute the onions until translucent and a bit caramelized. Add the diced peppers, celery & garlic and continue to saute for about 5 more minutes. Add the wine and scrape any caramelization off the bottom of the sauteuse for added flavor. Add the diced tomatoes along with their juice and increase the heat to medium high for about 5 minutes, occasionally stirring to prevent sticking or burning. Reduce heat to medium and add the the fresh basil, oregano, salt & pepper. Simmer for five minutes then reduce heat to low, yet simmering for an additional ten to fifteen minutes. Add the sugar the last five minutes. Taste & balance as needed. Serve immediately over fresh pasta of your choice, sprinkle with freshly grated Parmesan or Romano cheese and enjoy! Makes 2 quarts.
Optional: Add quartered artichoke hearts, lemon zest & capers for a nice change, or try adding fresh rosemary & thyme for a true herbal infusion & taste of summer's bounty!